Known and Unknown: Author's Note
---
From pages XIII-XVI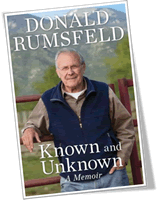 An internet search of "known unknown" in the autumn of 2010 resulted in more than three hundred thousand entries, a quarter million of which were linked to my name. There is an entry on Wikipedia. The reference has been turned into "poetry." That poetry has been set to music. And that was just on the first page of the search results. Yet for a phrase seemingly so well known, there is some irony in the fact that its origins and meaning remain largely unknown.
The phrase first became publicly linked to me in early 2002. Toward the end of one of my Pentagon press briefings, a journalist told me that "reports" were suggesting the absence of a link between Saddam Hussein's regime and terrorists seeking weapons of mass destruction. These unidentified reports, the questioner suggested, were evidence of a lack of a "direct link."
Putting aside the substance of the reporter's question—at least for the moment—I raised a larger point about the limits of human knowledge. I responded:
Reports that say something hasn't happened are always interesting to me because as we know, there are known knowns: there are things we know we know. We also know there are known unknowns: that is to say we know there are some things [we know] we do not know. But there are also unknown unknowns—the ones we don't know we don't know. And if one looks throughout the history of our country and other free countries, it is the latter category that tends to be the difficult one.
At first glance, the logic may seem obscure. But behind the enigmatic language is a simple truth about knowledge: There are many things of which we are completely unaware—in fact, there are things of which we are so unaware, we don't even know we are unaware of them.
Known knowns are facts, rules, and laws that we know with certainty. We know, for example, that gravity is what makes an object fall to the ground.
Known unknowns are gaps in our knowledge, but they are gaps that we know exist. We know, for example, that we don't know the exact extent of Iran's nuclear weapons program. If we ask the right questions we can potentially fill this gap in our knowledge, eventually making it a known known.
The category of unknown unknowns is the most difficult to grasp. They are gaps in our knowledge, but gaps that we don't know exist. Genuine surprises tend to arise out of this category. Nineteen hijackers using commercial airliners as guided missiles to incinerate three thousand men, women, and children was perhaps the most horrific single unknown unknown America has experienced.
I first heard a variant of the phrase "known unknowns" in a discussion with former NASA administrator William R. Graham, when we served together on the Ballistic Missile Threat Commission in the late 1990s. Members of our bipartisan commission were concerned that some briefers from the U.S. intelligence community treated the fact that they lacked information about a possible activity to infer that the activity had not happened and would not. In other words, if something could not be proven to be true, then it could be assumed not to be true. This led to misjudgments about the ballistic missile capabilities of other nations, which in some cases proved to be more advanced than previously thought.
The idea of known and unknown unknowns recognizes that the information those in positions of responsibility in government, as well as in other human endeavors, have at their disposal is almost always incomplete. It emphasizes the importance of intellectual humility, a valuable attribute in decision making and in formulating strategy. It is difficult to accept—to know—that there may be important unknowns. The best strategists try to imagine and consider the possible, even if it seems unlikely. They are then more likely to be prepared and agile enough to adjust course if and when new and surprising information requires it—when things that were previously unknown become known.
I also encountered this concept in Thomas Schelling's foreword to Roberta Wohlstetter's book Pearl Harbor: Warning and Decision, in which Schelling identified a "poverty of expectations" as the primary explanation for America's inability to anticipate and thwart the Japanese attack on Hawaii. Schelling's message was as clear as it was prescient: We needed to prepare for the likelihood that we would be attacked by an unanticipated foe in ways that we may not imagine. Going back in history, the influential nineteenthcentury German military theorist Carl von Clausewitz emphasized the challenges of dealing with incomplete or faulty intelligence and the inevitability of surprise. Some with an interest in philosophy have made note of a line attributed to Socrates: "I neither know nor think that I know." This has been interpreted to mean that the beginning of wisdom is the realization of how little one truly knows.
One known unknown for me was how to write a book. I had never tried to do so before. I didn't know whether or how to incorporate the hundreds of thousands of pages of primary source documents in my personal archive. I still have my parents' almost daily letters to each other during World War II, hundreds of notes on the reasons I cast my votes while serving in the Congress during the 1960s, and my detailed memos of my meetings with President Ford as White House chief of staff to ensure that his requests and directions were executed. I also have some twenty thousand memos humorously characterized as "snowflakes" from my tenure as secretary of defense in the George W. Bush administration, some recording momentous decisions, others simply scheduling a time for a haircut. Thousands more documents reside in classified archives at the Library of Congress, the State Department, and the Department of Defense.
Despite its challenging volume, I decided my archive could augment my personal recollections. On the one hand, the documents would add detail and context to my memories, and on the other, they would cause me to more rigorously challenge what I remembered. A portion of my archive will be available in digital form on my web site, www.rumsfeld.com, which accompanies and supports this memoir. I have also released and will continue to release additional documents not directly cited in this book but of historical interest nonetheless.
My life has spanned more than one third of the history of the United States. As I thought more about this memoir and a title, the idea of the known and the unknown seemed to fit. Not only are there things in this book people believe they know about my life, but there are also things that may surprise and differ from what many may have read or heard or assumed. The same holds true about many of the events I observed—from my years in Congress during the civil rights struggle and the Vietnam War era, through the Cold War and my service as secretary of defense during the age of terrorism. The known and the unknown are what I have attempted to present in this memoir—that slice of our amazing country's history of which I have been privileged to be a part.
—Donald Rumsfeld, December 2010